Fort Lauderdale Long-Term Disability Insurance Attorney
Accessible and Empathetic Legal Representation in Boca Raton and Throughout South Florida
What would happen to you and your dependents if you abruptly became unable to work for an extended period of time?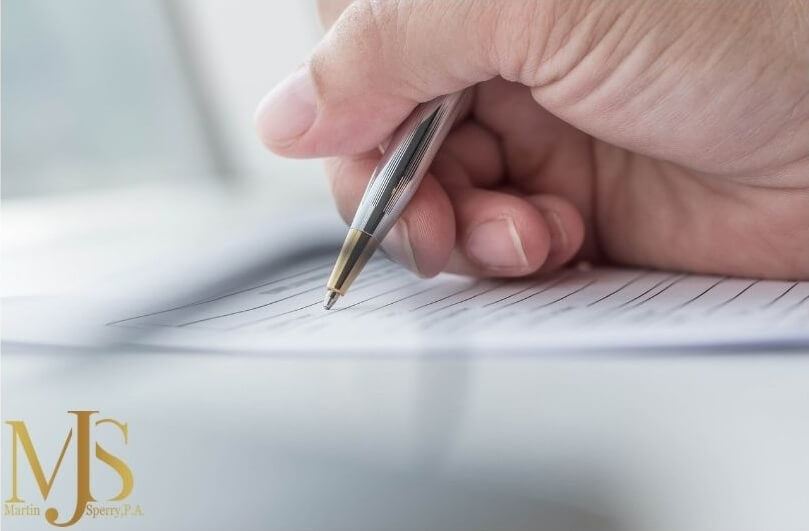 Would you be able to financially manage without your weekly or monthly paycheck? While it can be unpleasant to consider, an unforeseen injury or illness can happen to anyone, no matter their profession.
Long-term disability insurance allows individuals to protect a large portion of their paycheck should a disability prevent them from working for many months or even years. Many workers proactively protect themselves and their loved ones with long-term disability policies.
Unfortunately, many insurers habitually act in bad faith and wrongfully deny legitimate claims, leaving vulnerable workers without the compensation they need. Our Fort Lauderdale long-term disability insurance lawyer at Martin J. Sperry, P.A. can help seek compensation when your claim is wrongfully denied.
Why Choose Our Florida Long-Term Disability
We have over 45 years of legal experience in this field and have successfully recovered millions of dollars for our clients. Our firm understands what is at stake when your insurer refuses to honor your policy and will do everything possible to secure the benefits you need and are entitled to. We can guide you through the appeal process and explore every legal option available to you.
Get the experienced legal assistance you need when your insurer wrongfully denies your claim. Call (954) 324-2340 or contact us online to schedule a free initial consultation with long-term disability in Florida.
How Does Long-Term Disability Insurance Work?
As its name would imply, long-term disability insurance is intended for scenarios where a disability prevents you from returning to work for an extended period of time.
The policy's benefits will cover a significant portion of your paycheck for a set benefit period that can last:
Months
Years
Or even until retirement
To be covered by one of these policies, you or your employer must pay a monthly premium.
Paycheck Protection Amount
The extent of a policy's paycheck protections can vary widely. More expensive policies can cover as much as 80% of your income during the benefit period, while less expensive policies may cover between 40% and 60% of your current level of pay.
It is important you understand and plan for what your policy will theoretically provide in a worst-case scenario. Our Fort Lauderdale long-term disability claims lawyer can review the specifics of your policy and help you understand its terms and benefits.
When an event covered by your policy occurs, you will need to file a claim with your insurer explaining how your qualifying disability prevents your ability to work for an extended period of time. Typically, the injury or illness must prevent you from performing a majority of your job responsibilities.
Representation Against Major Disability Insurance Companies
Sadly, it isn't uncommon for disabled Floridians to suffer unjust consequences after disability insurance companies wrongfully deny or terminate their short-term disability (STD) or long-term disability (LTD) benefits. In today's world, it can be more challenging than ever to simply obtain the benefits that you were always rightfully entitled to under the law. Luckily, our award-winning disability attorney is here to help.
At Martin J. Sperry, P.A., our Fort Lauderdale lawyer has successfully represented the disabled in Florida for over 45 years. Attorney Sperry has extensive experience standing up to some of the largest and most powerful disability insurance companies in the U.S., including:
Hartford
Unum
MetLife
Mutual of Omaha
Matrix
Reliance Standard
Mass Mutual
Northwestern Mutual
The Standard
What Are Considered Qualifying Disabilities?
Qualifying disabilities are generally not easily recoverable and may even be permanent. You will likely need to include a written recommendation from a medical professional that agrees with your assessment that you will be unable to work for months, years, or more.
Disabilities that can warrant long-term disability claims include:
Arthritis
Back or spinal injuries
Brain injuries
Broken bones or limbs
Cancer
Diabetes
Fractures
Multiple sclerosis
PTSD
Seizures
Severe mood disorders, including bipolar disorder
What Are the Different Types of Disability Insurance?
Long-term disability policies also generally come in 2 major categories with vastly different levels of protection. Own occupation disability insurance specifically covers your future ability to perform your current job responsibilities.
These policies can entitle you to benefits if a disability prevents you from continuing at your current job, even if you are able to take a different position elsewhere. Any occupation disability insurance protects you if your disability prevents you from working any type of job.
These conditions mean it can be much more challenging to claim benefits. If your long-term disability insurance claim is approved, you will be subject to an "elimination period," which is essentially a waiting period. During this time, you will not receive benefits. The length of the elimination period can vary, but many long-term disability policies require claimants to wait at least 90 days.
Your policy's benefit period determines for how long you receive compensation. Many long-term disability insurance benefit periods last for multiple years or even decades. Some policies will even last until retirement. The benefit period can end sooner if you recover from your disability and become able to return to work.
How Workers' Compensation Differs from Short and Long Term Disability
Short-term disability insurance functions similarly to long-term disability insurance but is intended for situations where a worker can recover within a few weeks or months. These policies will often replace a smaller portion of an individual's paycheck – generally between 40% and 60% - for a period of 3 months or fewer.
Short-term disability insurance policies are typically less expensive than long-term options and will sometimes be covered by employers. They also have briefer elimination periods, with waits typically only lasting 1 or 2 weeks.
Workers' compensation insurance is separate from short- or long-term disability insurance and specifically covers on-the-job injuries. Only incidents that occur while a worker is on the clock and performing their job responsibilities are covered by workers' compensation. Only disability insurance policies can cover injuries that occur outside the workplace or disabilities that prevent you from working.
Why Are Long-Term Disability Claims Denied?
If a qualifying disability legitimately prevents you from performing your job responsibilities under the terms of your policy, there should be no reason why your insurance carrier should deny your claims. Frustratingly, some unscrupulous insurers have a long history of wrongfully denying long-term disability claims, leaving workers without the benefits they need to pay their bills.
Insurers may attempt to deny long-term disability claims for one of several reasons, including:
Disagreements over the extent of the disability. Each policy will define what constitutes a "disability." An insurer may argue your condition does not meet this condition or that you are in fact able to perform job responsibilities. They may rely on their own medical professionals to review evidence submitted with your claim. These in-house doctors may disagree with your own healthcare professional's assessment and argue you are able to work, giving an insurer cover to deny your claim.
Suspected fraudulent activity. When purchasing a policy, a prospective policyholder must disclose all known medical conditions as well as information about their occupation and hobbies. An insurer will attempt to deny a claim if they suspect the policyholder omitted or misled them at any point during the application process. This justification is often abused by insurers looking for any reason to deny a claim.
Inadequate evidence. Insurance companies tend to require an exhaustive level of evidence proving the existence and extent of your disability. Even if you provide a recommendation from your doctor and relevant medical records, your insurer may still attempt to deny your claim on the basis of insufficient evidence.
Get Help With Your Case Today
Many insurance companies acting in bad faith will wrongfully reject claims with the hope that claimants will not fight the decision. Our Fort Lauderdale long-term disability insurance lawyer at Martin J. Sperry, P.A. can serve as your aggressive advocate when your claim has been wrongfully denied.
We can assist you with filing an appeal and explore all other available legal options. Our firm's team will work closely with you every step of the way and do everything possible to secure a favorable result in your case.
We assist with wrongfully denied long-term disability claims for workers throughout Florida. Call (954) 324-2340 or contact us online to discuss your situation with a Florida long term disability lawyer.
Hear It from Our Clients
Delivering High-Quality Legal Services
I consider Martin Sperry a consummate professional, one of the most experienced and preeminent insurance attorneys in this area. - C.N., Esq.

Consistent Communication and Professionalism - P.W.

I found him to be experienced, responsive, knowledgable and honest. - J.E.

Mr. Sperry is the smartest. - Luiz. P

Professional and Experienced - Timothy P.
$5,000,000 Recovery for Delayed Payment of Insurance Benefits

$4,200,000 Recovery on Commercial Insurance Claim Following a Complete Denial of Benefits

$1,950,000 Recovery of Disability Insurance Benefits

$800,000 Recovery for Delayed Payment of Insurance Benefits

$520,000 Recovery of Accidental Dismemberment Benefits

$350,000 Lump Sum Settlement on Individual Disability Policy

$300,000 Recovery of Long Term Disability Benefits Under ERISA Plan After Complete Denial of Claim

$260,000 Recovery of Disability Benefits

$135,000 Recovery ERISA Disability Benefits

$105,000 Recovery of Long Term Disability Benefits After Complete Denial of Claim

$87,000 Recovery of Long Term Benefits Under ERISA After Complete Denial of Coverage
Reasons To Hire Martin J. Sperry, P.A.
Put Experience in Your Corner
Personalized Legal Services

All clients work directly with Attorney Sperry to discuss their unique case.

Cost-Efficient Approach

No fee unless we reach a resolution and recovery on your case.

Experience on Your Side

Our Attorney brings more than 45 years of experience to every case that we take on.

Free Consultations

Don't wait, contact our firm to schedule your free consultation today.